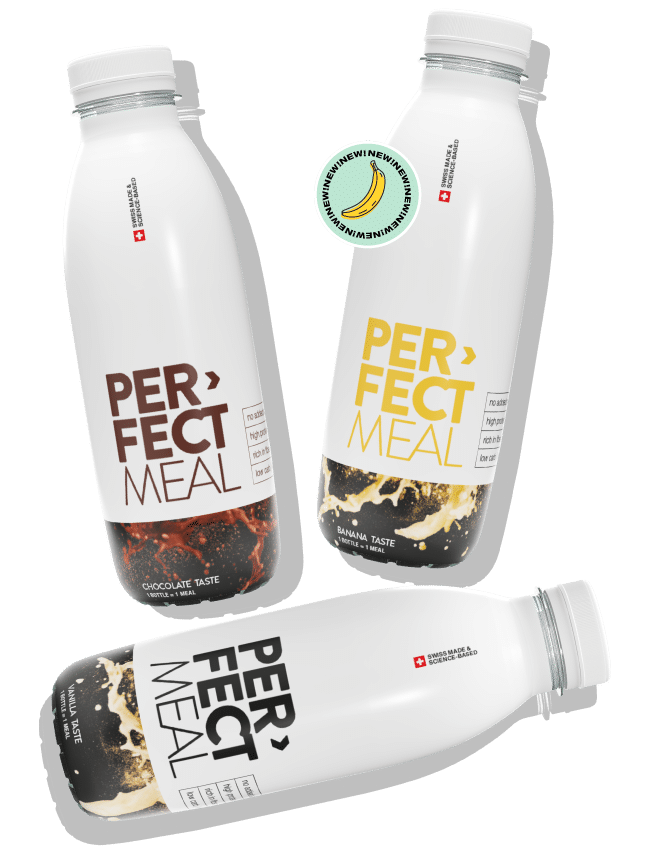 The Healthy
Drinking Meal
When we are stressed, we often eat unhealthy. That's why we have developed a drinkable meal with everything you need.
PERFECTMEAL supports your health thanks to an optimal combination of nutrients and makes you full for a long time.
Perfect combination of nutrients Provide your body with everything it needs: Vitamins, minerals, fiber, protein and healthy fats. PERFECTMEAL is low carb or ketogenic and has no added sugar.
Perfect Energy Forget about cravings and unhealthy food. PERFECTMEAL keeps your blood sugar level stable and gives you long-lasting energy.
Perfect for you Enjoy your hydration meal without worrying. PERFECTMEAL is free from lactose, gluten, animal content, soy, added sugar and other allergens.
Perfect for on the go Don't worry about preparing or transporting your meals. PERFECTMEAL is always ready to drink during car rides, meetings or hikes.
Swiss made
& Science based
We are a Swiss start-up that works closely with science. Our products are developed in Switzerland and are based on the latest research findings. Laboratory tests with test persons prove that our PERFECTMEAL drinking meal has a positive effect on health.
Are chocolate and vanilla totally banana to you? Perfect! Our drinkable meal is now also available with fruity banana. 
The new flavor PERFECTMEAL Banana is now available in our online store.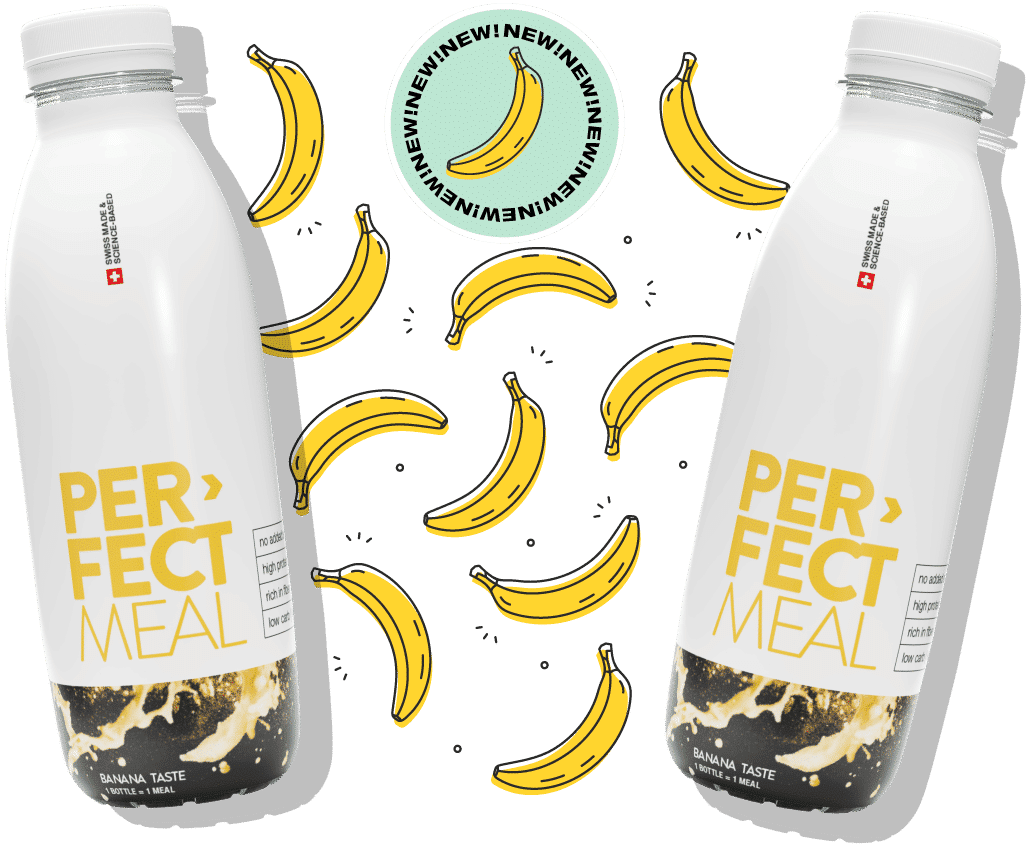 We solve your desire for healthy food. Order in just a few clicks and get your package delivered within 48 hours. Whether a single order or a subscription, with us you will find the perfect match for your health.
Can't decide between our delicious flavors? You don't have to. For a first taste, there's now our new tasting package. This gives you the opportunity to try all three flavors.
Order now one bottle each of CHOCOLATE, VANILLA & BANANA for only 15.– CHF incl. shipping costs to your home.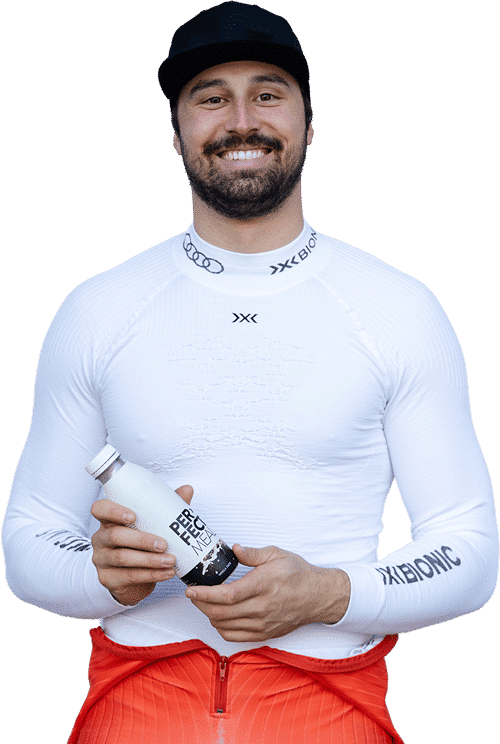 With PERFECTMEAL, I have a readily available, high-quality, vegan meal that helps me optimize my nutrition so I am prepared for any race.
People in Switzerland consume twice as much refined sugar as recommended, too many quickly digestible carbohydrates and too little fiber. PERFECTMEAL solves the problem thanks to a balanced combination of nutrients:
Laboratory tests with test persons show: PERFECTMEAL causes a lower increase in blood sugar after ingestion than other drinking meals. Therefore, the metabolism is less stressed, the saturation lasts longer and attacks of ravenous hunger do not occur.
What makes us different from the rest?
We have compared different alternatives based on their nutritional values. Convince yourself of our arguments. What makes us different from the rest?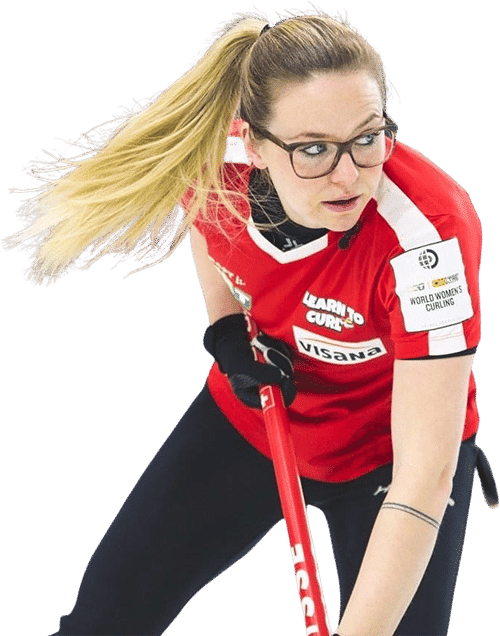 Between training and work, there is often too little time for a balanced diet. With PERFECTMEAL, I have found the optimal solution when things have to go fast.
We send out our newsletter at compatible intervals and with good reasons to read it: Promotions, news, competitions and much more.
Our drinkable meal is suitable for you if you want to eat healthy despite your hectic everyday life. It is made for you if you don't have time to cook, but still want to provide your body with all the necessary nutrients. PERFECTMEAL is for those who want to stay one healthy step ahead of stress.
The short answer is yes. One serving (500 ml) of PERFECTMEAL contains about 400 kcal. The average daily requirement of a human being is about 2000 kcal, but it depends strongly on the body mass and activity. The high proportion of dietary fiber (24 g) in our drink provides a long-lasting feeling of satiety and supports your intestinal flora.
Vitamins A, B, C, D and E improve your immune system. The many omega-3 and omega-6 fatty acids support your cardiovascular system. The high fiber content contributes to improved intestinal flora. The vegetable proteins maintain or promote your muscle mass. Few carbohydrates and no added sugar promote natural fat loss.